Walt Disney World Ticket Sales
At this time, Disney has temporarily paused new ticket sales to focus on guests with existing tickets and reservations. Existing ticket holders and Annual Passholders will be able to make a theme park reservation before new tickets are sold. Disney is reporting that they plan to restart ticket sales later this summer, but have not specified a date when tickets sales will resume. Theme park reservations will be limited due to attendance limitations and will be subject to availability.
Tickets purchased here can be transferred to your room key on check in.
Base Tickets
A Magic Your Way Base Ticket provides entry to one Theme Park per day for the number of days you purchase. The ticket expires 14 days from the first day of use. You can purchase between 1 and 10 days of fun for adults (ages 10+) or children (ages 3-9). Infants 2 or younger are free. Tickets are valid for 14 days from first use.
* Prices include all taxes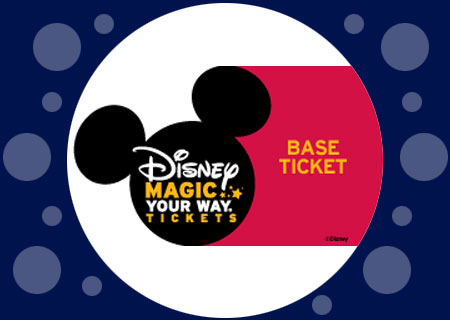 Park Hopper Tickets
Park Hopper Option permits you to come and go through multiple Theme Parks on the same day as many times as you like. I like this option because it allows you to visit one park in the morning, then hop to another one for lunch and then maybe a third one for dinner while still visiting the fourth one for a night time extravaganza, or maybe to enjoy Extended Magic Hours (you must be a guest of a Disney Resort to attend Extended Magic Hours). Tickets are valid for 14 days from first use.
* Prices include all taxes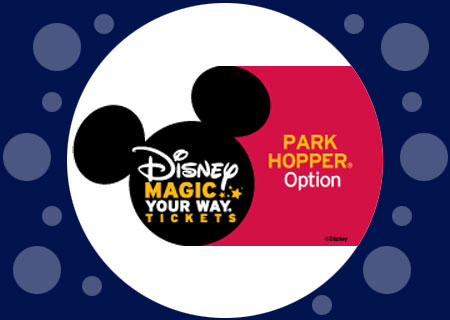 Park Hopper Plus Tickets
The Magic Your Way Hopper Plus Ticket gives you admission for the number of days on your pass to: MAGIC KINGDOM® park, EPCOT®, Disney-Hollywood Studios, Disney's Animal Kingdom Theme Park with the freedom to visit more than one park per day. Plus access into the park option which includes Water Parks, etc.
* Prices include all taxes